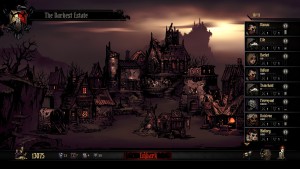 What can I say about "Darkest Dungeon"? For one thing, it's freaking Amazing!!! The artwork for this game are really what set it off and pull the whole thing together. The artwork and animation really make this game come to life and pop off your screen and into your head. The narrator voicing the story is also truly great. Red Hook although a small indie dev but the work they bring to the table is all AAA quality material.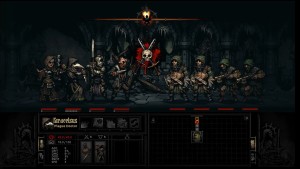 This game is kinda hardcore "side scrolling" RPG about dungeon adventuring, stress and heroic deeds. It's really unlike anything you had recently chance to play, it's dark experience exploiting flaws, venturing to deeps of human mental vulnerability. What's the point of living through passage of blades when the paranoia and stress turns you mad or stop your heart?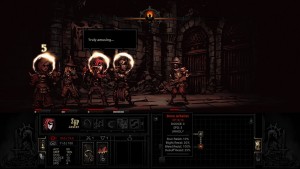 This are the list they nailed correctly in this game
+ XCOM elements of party management
+ Light/stress factor affecting outcomes
+ Beautiful graphic, animated movies
+ Narrator
+ Dark atmosphere
+Difficulty
Darkest Dungeon is Difficult in an Insane level!!! It's a RPG Roguelike and RNG, and try to remembers to get those lucky charms like rabbit foot or 4 leaf clovers cause you'll be needing them. It's the perfect balance between difficulty and enjoyment. You WILL lose heroes and even complete games after making significant progress. You WILL get frustrated. Keep at it however and you WILL Win. When you get a good run through a dungeon you really feel the triumph and like you earned it. You feel like you accomplished something worthwhile that was challenging. If you're used to playing roguelikes then you should know how this feels and know it was worth it.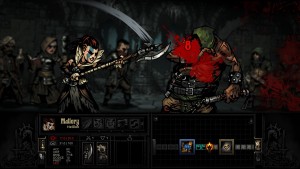 Roguelikes aren't for everyone though. If you're easily frustrated or have anger issues this might not be the game for you. I've yelled "WTF you Motherf*&%$er!!" more times in a bad dungeon than you can shake a really big stick at. So be ready for that, but don't worry. It makes those good runs taste all the more sweeter when you pull them off.
So, do you think you're ready? You think you know madness? You think you know insanity? Do you think you've seen the twisted horror that can break a man's mind in the deepest reaches of his soul?
You don't know Shit until you step into….The Darkest Dungeon.
It lives up to its namesake! This game has a darkness about it. It will take you time to master, but if you enjoy a challenge and enjoy single player rpg dungeon crawls, You. Will. Love. This. GAME!