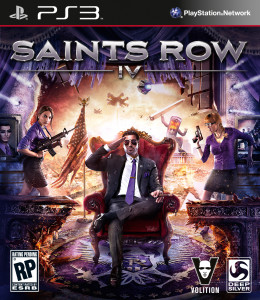 Let me start off with saying that this game is OVER THE TOP. Hilarious and exciting at the same time, Saint's Row IV is a tidal wave of fun that'll leave you playing it again and again.
The developers behind the game are Volition(also makers of the Red Faction franchise), and WAS under THQ( Dawn of War, Company of Heroes), until acquired by Koch Media and published under their brand, Deep Silver.
There those that find Saint's Row: The Third quite similar to IV, and they are not wrong in the slightest. IV was supposedly a planned expansion to The Third, but with the idea being quite a rich foundation, they turned it into a full game, and that's why it uses the same engine, graphical fidelity, and generally the same feel. Some might argue that it is too close to the old game, but that is a subjective matter.
Unlike the Saint's Row franchises before that, this actually has a very valid reason for being over the top and such: It's a simulation. This has a large implication on gameplay that's quite different from the older brothers of the franchise.
Saint's Row IV gives the player oodles of new ways to play Saint's Row like never before. These things include running at super speed and lashing out mini tornadoes that flip things you pass through(even tanks),  hovering in mid-air and punching the ground in stylish fashion, sending alien scum across the street, and the Dubstep gun. Need I say more?
Gameplay:
If you've played some games from the Grand Theft Auto franchise, you won't be alienated by Saint's Row. Some people can actually say that they are quite similar. But if you played GTA with cheats and enjoyed it, then you're going to love what Volition has to offer.
Saint's Row IV plunges you into an open world with a massive map and the possibility of a gigantic free-roam experience. With the progression of the story comes the unlocking of many features such as powers, mini-games and allies.
Often you'll come to finish tasks given by your allies through playing the mini-games scattered all throughout the map. These mini-games range from racing across the streets with your super-sprint, to wreaking as much havoc as you can in an alien tank to a purposedly throwing yourself ragdoll style across the city. The challenges are easy enough to complete on their own, but takes quite a lot of practice and determination to get a high rating on them, as you can achieve bronze, silver or gold medals from them.
These games are what give the game its size, but the story is its backbone. Advancing the story brings about unique game elements not seen when you're roaming about completing mini-games, such as challenges without your powers and getting into places that you can't otherwise. It gives the feeling that the story is not the only thing you're missing if you don't finish the playthrough.
There are multitudes of weapons to blast enemies with. You may choose to simply
headshot your way with a pistol, SMGs, rifles, to decimating their ranks with the infamous Dubstep Gun, bazookas, you could even spawn a black hole beside them! Along with powers like freeze blasts, telekinesis and super stomps, Saint's Row is a truly liberating game.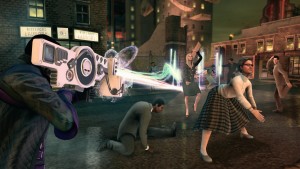 The Dubstep Gun makes anyone shake their booty. To the melody of utter annihilation.
My qualm with the game is its difficulty. Some of these powers and weapons are downright crazy, and that can be forgiven or even be enjoyable, but they can be overpowered. You can cut a swath through enemies no problem. Heck, you can even melee your way across them and end with full health because all pedestrians drop health. In fact, upgrading your magazine for a weapon class will eventually give you infinite bullets.
The game is not really that challenging, but boy is it enjoyable, comedic elements line most of the moments, and the humor is legit.
There a LOT of customization options, from your clothes, to your physique, to your voice, specific taunts, gun appearances… You can also customize your cars, but with the inclusion of super sprints and air gliding, cars in this game are borderline useless. That is quite a shame actually.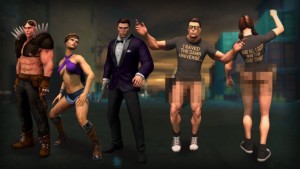 As I said, a LOT of customization options.
The ability to record vehicles types and spawn them is a nice feature, along with repainting them and customizing their performance is great, but is just useless when you can traverse the map faster without them.
Sound:
Yes the music is great, the voice acting is top-notch, and the radio stations when inside cars are loaded with songs some would find familiar. (108 songs split into 7 stations)
The sounds don't seem repetitive in the slightest, But riddled with amazing amounts of ambience that makes some things rather very familiar every time, such as the sound of powerups, alien stations or the super sprint kicking up wind in your wake. When you think about it, there are a lot of sounds you hear constantly, but the game makes a good way of not making it feel repetitive.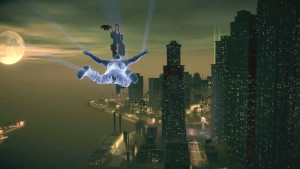 Suddenly the sound of air whooshing 60% of the time doesn't feel out of place.
Voice acting is great, on-point and embodies emotion and it realistically fits into the characters and their persona. A lot of VO scripts are created, even for pedestrians and enemies and all the little things give the game a lot to listen to.
The music is great, a lot of budget could have been put to license a lot of songs, including Aerosmith's I Don't Wanna Miss a Thing and What is Love by Haddaway.
Story:
The story is well crafted, but it's not the kind of story that's rich for expanding upon for fans of the franchise. The story isn't the strongest point, but it has a great scale to it as well. Fortunately for newcomers to the series, the story is quite compressed and does not have too many elements that are exclusively understandable to veterans of the older games in the Saint's Row line.
The continuity is fine, but the pacing is quite stretched out with a singular goal in mind all throughout the game, and most of the time used for getting a crew together and solving each their own personal problems. It isn't as engaging as other games, especially when held in comparison.
That goal? Kill this guy.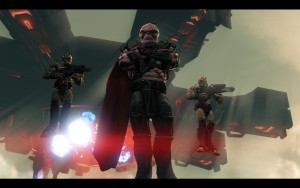 Conclusion:
Pros:
+ Hell of a fun game
+Obnoxious humor
+Lots of customization
+Amazing amounts of freedom
+Great graphics but not that exceptional
+Lots of real life references
+Great music and soundtrack
+Lots of gameplay elements and mini-games
Cons:
-A little too easy
-Lack of intellectual gameplay elements
-Vehicles are essentially useless
-Humor is adult-rated, unsuitable for young children
-You use most of your time playing mini-games
-Mediocre storyline, big scale, but short-sighted